Airlines Thaïlandais Airasie (Thai Airasia - FD) Book flights thaïlandais AirAsie
Airlines Thaïlandais Airasie (Thai Airasia - FD) information
---

The TraveliGo.com Help you find the best prices on flights and airfare purchases of Airlines. Covering both domestic and foreign. Just enter the name of the town or city and airport of departure or destination airport. From a search engine on the Web TraveliGo.com The system will search and display flights at the best of Airlines. Which offers flights on the route your flight. The flights are direct flights more convenient for you. By filtering information such as price, time, and allows you to find flights, according to your needs by quickly TraveliGo.com. You buy a ticket immediately. Quick and easy Without going through the website of the airline or airline ticket sales agent of your choice. Secure online payment system that has an SSL certificate from Geotrust along with promotions for both domestic and international flights. Great deals on flights and discounted more.
Airlines Thaïlandais Airasie (Thai Airasia - FD) facility and service
---
Services on aircraft
Airlines Thaïlandais Airasie (Thai Airasia - FD) routes
---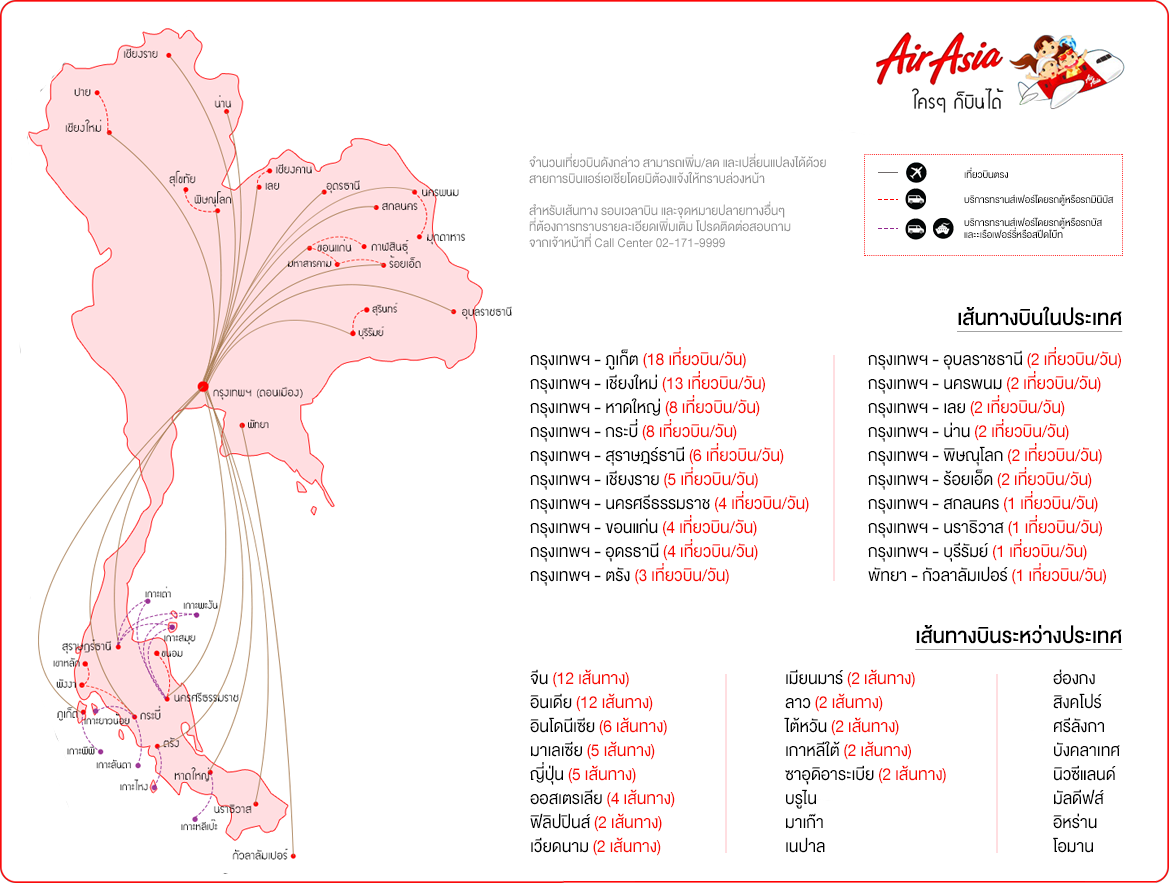 Routes of Airlines. Both local and international following.

-The domestic unit Extensive travel in several provinces, all regions. The Popular flights include flights Bangkok - Chiang Mai. Bangkok - Chiang Rai Bangkok - Phuket Bangkok - Krabi Bangkok - Thailand Bangkok - Surat Thaniี

-International flights The flight has been popular include Bangkok - Singapore. Bangkok - Hong Kong Bangkok - Japan Bangkok - Macau Bangkok - Malaysia Bangkok - Taiwan Bangkok - Bangkok Australia - China.

TraveliGo.com A flight of this airline in all directions. To buy Airlines flights in the best according to your needs. We can use the web to find the best price and buy plane tickets directly.

Let's get to know before flying with Airlines Thaïlandais Airasie (Thai Airasia - FD)
---

Airlines
The airline was established using FD and operations in Thailand. The origins of the expansion of the airline Air Asia flight from Malaysia. The base airport at Don Muang Airport. Is the leading low-cost carrier in Thailand. Highlights of the airline is an airline that is unique. Ready to meet the diverse needs of all service users.
Promotion Air Ticket thaïlandais AirAsie
Ticketing period :
11 Jul 2019 - 25 Jul 2019
Travel period :
16 Jul 2019 - 31 Oct 2019
Ticketing period :
11 Jul 2019 - 25 Jul 2019
Travel period :
13 Jul 2019 - 30 Oct 2019
Contact Airlines Thaïlandais Airasie (Thai Airasia - FD)

Téléphone
66 2 515 9999
Adresse email
-
Website
http://www.airasia.com/
Address
Suvarnabhumi International Airport, 6th Floor Room No.TW6-037, No.999, Moo 1, Bangplee, Samutprakarn 10540
Don Mueang International Airport Room No. 3307, 3rd Floor, Terminal 1. 222 Vibhavadi Rangsit Rd., Airport Sub District, Don Mueang District, Bangkok 10210
Rate of providers based on user feedback, price reliability, fees, customer service, and the ease of use of the provider's website.
How to Book Tickets Online
To book thaïlandais AirAsie ticket online, do as follows
Select route in the search box.
Select fare.
Fill in passenger's requested information.
Select payment method.
Finish transaction and thaïlandais AirAsie e-ticket will be sent to your email.

@traveligo